Bev Facey Website Showcased With New Falcon App
We are truly pleased to announce our very own Falcon Josh Moore has created the new Bev Facey android app.
Click the photo for full press coverage.


The Rubber Hits the Road at Local High School with Generous Industry Grant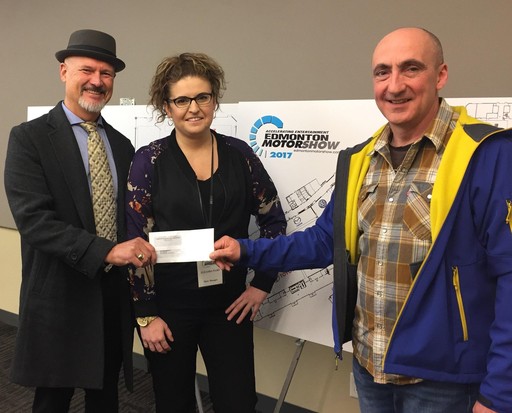 Auto mechanics students at Bev Facey Community High will find new balance in their course work thanks to a $10,000 grant from the Edmonton Motor Dealer Association (EMDA), to be used to purchase new tire-balancing and changing equipment.
"I can't overstate the importance of this grant," says Frank Strohschein, a senior instructor with Bev Facey's auto mechanics program. "The money we received from EMDA allows us to upgrade our equipment, enhance learning and better position students for a successful career post-graduation."
The EMDA is committed to promoting and supporting the people, integrity, quality, competition and educational institutions essential to the automotive industry as a whole. Its members employ more than 5,000 Edmonton-based professionals, who in turn support their communities through charitable involvement and in-kind contributions.
"Our members strive for excellence in the local automotive sector," says Eleasha Naso, the executive director of the EDMA.  "Through both our grant and scholarship programs, EMDA helps enhance industry sustainability by ensuring students with the desire to pursue a career in this area have the opportunity to train on the best equipment and get the education they need to advance."
Bev Facey's auto mechanics program trains between 200 and 225 students on an annual basis. Some of the students enroll in the program to gain the basic skills needed to maintain and repair vehicles, while others enroll to pursue more in-depth training and familiarize themselves with emerging trends to gain a competitive advantage in the trade before leaving school.
"By partnering with organizations such as EDMA, schools in our Division are able to expand their educational opportunities," says Joseph Clark, the director of Learning Services at Elk Island Public Schools. "Our students are given a chance to go beyond the basics and gain greater clarity about potential career paths."
Facey Teacher Receives $10,000 BP A+ For Energy Grant
Bev Facey Science teacher, Mr. Cook, was visited on May 25 by the EIPS school board trustess, the superintendent of schools, and a representative from BP Canada who presented him with a cheque for $10,000 in response to his application for the BP Energy Grant. Below is a link to the video of the surprise visit to his classroom and the presentation of the cheque. Congratulations Mr. Cook!
https://www.youtube.com/watch?v=ewd6kEtTRwc